Pope: Religious evangelize by radiating light of God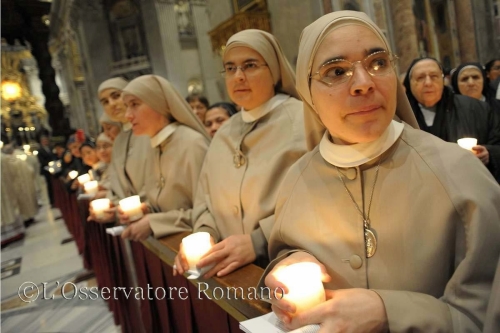 Pope Benedict XVI today presided over Mass in Saint Peter's Basilica in celebration of the Feast of the Presentation of Jesus at the Temple, a feast which also corresponds with the World Day for Consecrated Life.
In his homily, the Holy Father welcomed the consecrated men and women present, reminding them how the Feast of the Presentation "manifests the beauty and virtue of the consecrated life." During this Feast, he said, we recall "the entrance of Mary into the Temple: the Virgin Mary… carrying in her arms Light Itself, the Word incarnate, Who came to dispel the darkness of the world with the love of God." The Joy of the consecrated life, the Holy Father continued, is found in the participation in the Cross of Christ. Just as God's light flows from the pierced heart of Mary, it is through the suffering, sacrifice, and gift of self that consecrated persons live for the love of God, and others, evangelizing by radiating this same light.