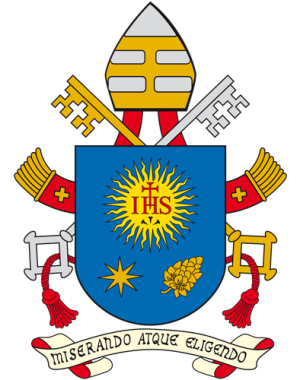 (Vatican Radio) Pope Francis has chosen the motto "Miserando atque eligendo", meaning lowly but chosen; literally in Latin 'by having mercy, by choosing him'.
The motto is one the Pope had already chosen as Bishop. It is taken from the homilies of the Venerable Bede on Saint Matthew's Gospel relating to his vocation:"Jesus saw the tax collector and by having mercy chose him as an Apostle saying to him : Follow me."
This homily, which focuses on divine mercy and is reproduced in the Liturgy of the Hours on the Feast of Saint Matthew, has taken on special significance in the Pope's life and spiritual journey.
In fact it was on the Feast of Saint Matthew in 1953 that a young seventeen year-old Jorge Bergoglio was touched by the mercy of God and felt the call to religious life in the footsteps of Saint Ignatius of Loyola.
Beyond the motto, the coat of arms has a blue field and is surmounted by the mitre and the papal keys. On the crest itself at the centre is the symbol of the Jesuits, a flaming sun with the three letters recalling the name and the salvific mission of Jesus. Underneath we have two more symbols: to the right the star representing Mary and to the left the nard flower representing Joseph.