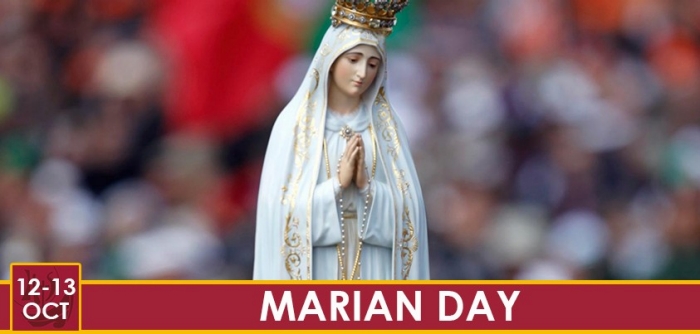 SATURDAY, OCTOBER 12
7.45 am Pilgrimages to the tomb of the Apostle Peter
9.00 am Eucharistic Adoration and the celebration of the Sacrament of Reconciliation
1.30 pm Procession of the Statue of Our Lady of Fatima in vatican
4.00 pm The procession of the original Statue of Our Lady of Fatima in St. Peter's Square
5.00 pm Pope Francis welcomes the Statue of the Madonna of Fatima. Via Matris and Marian catechesis.
7.00 pm Recitation of the Holy Rosary united with those in Marian sanctuaries throughout the world at the Sanctuary of Divino Amore;
10.00 pm Prayer Vigil
SUNDAY, OCTOBER 13
9.45 am The entrance procession of the Statue of Our Lady of Fatima and the recitation of the Holy Rosary.
10.30 am Holy Mass in St. Peter's Square presided by Pope Francis.