Benedict XVI: New motu proprios affect seminaries, catechesis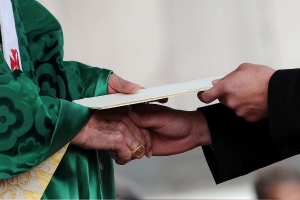 (Vatican Radio) In separate Apostolic Letters issued on Friday, Pope Benedict XVI placed the direction of seminaries under the competence of the Congregation for the Clergy, and the mission of overseeing catechesis in the purview of the Pontifical Council for the Promotion of the New Evangelisation. The Letters were issued "motu proprio," that is, at the Pope's own initiative.
The move re-organises the areas of responsibility within the Roman Curia, "the complex of dicasteries and institutes which help the Roman Pontiff in the exercise of his supreme pastoral office for the good and service of the whole Church and of the particular Churches" (Pastor bonus, art. 1).
The changes made today were announced by the Holy Father last October at the conclusion of the work of the General Synod of Bishops. At the time, the Holy Father explained: "In the context of the Synod of Bishops' reflections on 'The New Evangelization for the Transmission of the Christian Faith' and by way of concluding a path of reflection on the topics of seminaries and catechesis, I am pleased to announce that I have decided, after prayer and due reflection, to transfer the supervision of seminaries from the Congregation for Catholic Education to the Congregation for the Clergy and the supervision of catechesis from the Congregation for the Clergy to the Pontifical Council for the Promotion of the New Evangelization . . . We pray that the Lord will accompany the three dicasteries of the Roman Curia in their important mission with the assistance of the whole Church" (Address of Pope Benedict XVI during the final general congregation of the XIII Ordinary General Assembly of the Synod of Bishops).
The provisions of the two Apostolic Letters will go into effect fifteen days after their promulgation in L'Osservatore Romano.